Kenya is one of a few countries in Africa who possesses a lot of tourist attractions—varying from the beautiful beaches, rivers, lakes, tropical forest and wildlife, to name but a few.
What are the major Kenya tourist attractions?
1. Amboseli National Park
Amboseli National Park—also known as "Land of the Giants" is quite a small park in Kajiado County, located in Southern Kenya and spread across the Tanzanian border. Amboseli is the biggest sanctuary for the elephant in the country; and why it is ranked one of the most visited tourist destinations in Kenya.
Apart from being the best place to get relatively close to free-ranging wildlife, such as the elephants; it also gives a crystal clear view of the world's highest free-standing mountain—Mount Kilimanjaro.
There are a variety of wild animals in Amboseli National Park to feed your eyes on; such as the African buffalo, African savanna elephants, Lion, Impala, Cheetah, Spotted Hyena, Blue Wildebeest, Grant's Zebra and Masai Giraffe.
TIPS: If you're planning to visit Kenya anytime soon; including a trip to Amboseli National Park in your to-do list wouldn't do any harm. It is always recommended to get the complete view of Africa's most prestigious mountains, and also get a closer view of the African wildlife—which is why Amboseli is so unique, and a must-go-to destination for tourists.
2. Maasai Mara National Reserve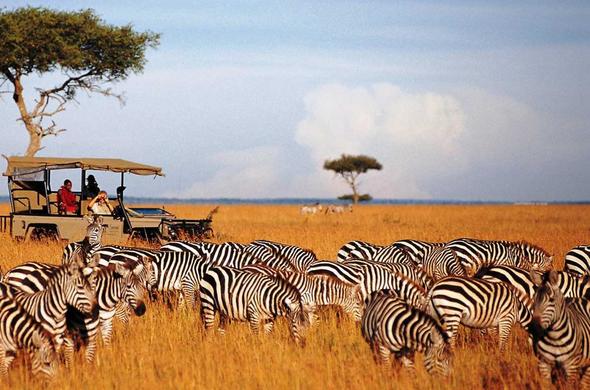 Maasai Mara National Reserve is located in Narok County; borders by Tanzania and situated in the Southern part of the Great Rift Valley.
Masai Mara is the most phenomenal tourist attraction in Kenya and Africa at large. Masai Mara National Reserve is widely known for its tremendous population of all members of the "Big Five" (Elephants, Buffalo, Lion, Leopard, and Rhino) including several hundreds of species of birds.
Also, the annual "Great Migration" of Thomson's Gazelle, Zebra, and wildebeest back and forth the Serengeti [a region in Northern Tanzania] often occur every year from July to October.
Masai Mara is predominantly inhabited by the wildebeest, and their numbers are roughly in millions.
TIPS: The "Great Migration" is one of the most exceptional natural events in the world; involving more than 1,300,000 wildebeest, 500,000 Thomson's Gazelles, 200,000 Zebras, 97,000 Topi, and 18,000 Elands.
3. Samburu National Reserve
Samburu National Reserve is a conservation park located in Samburu County [former Rift Valley Province, in northern Kenya]. Samburu National Reserve attracts a wide variety of animals, including wildebeest because of the river that runs through it; coupled with the mixture of grassland vegetation and riverine forest.
Samburu National Reserve is made up of a wide variety of animal and different species of birds; not to mention all the three big cats—which comprises of the Cheetah, Lion, and African Leopard. Also, the African Buffalo, Elephants, and Hippopotamus can equally be found here.
There are also mammals which are often found at the Samburu National Reserve but don't expect to see the "Rhinoceros". Constant poaching in the park has seen the population of Rhinoceros declining over the past decade.
TIPS: Just like every nature reserve, this park has lots of animals, including wildlife and about 350 species of birds. Samburu National Reserve is one of the best tourist attractions in Kenya.
4. Tsavo National Park
Tsavo National Park is the largest in Kenya, and one of the largest in the world. Tsavo is divided into two: Tsavo West National Park and Tsavo East National Park. Although, Tsavo East National Park is one of the largest and oldest parks in Kenya; Tsavo West is more famous because of the uniqueness of its landscape.
There are much to do when going to Tsavo National Park. There is a wide variety of wildlife, including Rhinoceros, Lion, Leopard, African Buffalo, and Elephants. You can also find some other animals, such as Masai Giraffe, Lesser Kudu, Hartebeest, and Bushbaby.
These are the five major attractions in Tsavo National Park
Mzima Springs
Yatta Plateau
Mudanda Rock
Aruba Dam
Lugard Falls
TIPS: Ever want to see the Nile crocodiles and hippopotamus in their den? With a trip to Tsavo National Park—Mzima Springs, to be precise; you will be astonished at the view of these wild mammals.
5. Lake Nakuru
Lake Nakuru is encompassed within Lake Nakuru National Park, located in Rift Valley. It is popularly known for its sanctuary for thousands, and sometimes millions of flamingos.
Apart from birds; the eastern black Rhinoceros, southern white Rhinoceros, Lion, Cheetah, Python, Waterbuck, and Rothschild's Giraffe can also be found in the park.
TIPS: For those who are so much interested in lakes and birds, including Lake Nakuru is one of the go-to destinations during a visit to Kenya is a MUST.
6. Mount Kenya National Park
Mount Kenya is the second-highest mountain in Africa, after Mount Kilimanjaro; and it is the highest in Kenya.
Mount Kenya National Park provides conservation for animals such as the African buffalo, elephants, black-and-white colobus, and other monkeys.
7. Lamu Island
Lamu Island is one of a few untouched Island in Africa since founded by Arab traders dated back as early as the fourteenth century.
Currently, there is no road network on the island, but rather alleyways and footpaths. Although, there are few motorized vehicles on the island; but oftentimes, people are seen moving about on foot or by boat, and donkeys are used to transport goods.
8. Malindi Marine National Park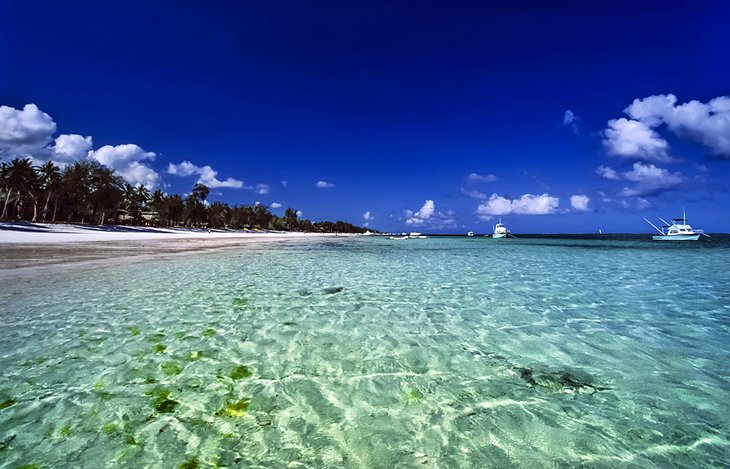 Malindi Marine National Park is unarguably the oldest marine park in Africa. It is located in the Indian Ocean, off the Kenyan coast.
Some of its major attractions include dolphins, tropical fish, turtles, barracuda, and coral reefs.
9. Hell's Gate National Park
Hell's Gate National Park is located within Nakuru County, near lake Naivasha—which lies northwest of Nairobi.
There are a wide variety of animals in the national park, including wildlife such as lions, leopards, and cheetahs. There are more than 103 species of birds; African buffalo, eland, zebra, hyena, Thomson's gazelle, baboons, and hartebeest are often found here.
10. Lake Turkana
Lake Turkana is the world's largest alkaline lake and largest permanent desert lake in the world.
The Lake Turkana region is a sanctuary to hundreds of species of birds; including Nile crocodiles and mammals.
11. Mombasa
Mombasa situation on the east coast of Kenya, along the Indian Ocean, has had a significant impact on tourism in the country. It is widely known as the regional economic and cultural center.
Mombasa is home to some of the most unique scenery and tourist attractions in Kenya. There are a plethora of things do when visiting Mombasa.
These are the most popular tourist attractions in Mombasa
Fort Jesus
North and South Coast of Mombasa island
Mombasa Old Town
Gedi Ruins
Shimba Hills Game Reserve
Hindu Temple
Mamba Village
TIPS: It is unthinkable that anyone would travel to Mombasa, and not go to the most travel-to marine parks in Kenya—the "Mombasa Marine National Park and Reserve". It is the most go-to marine parks in Kenya, due to activities, like snorkeling, diving, and its aesthetic beach. Also, there are coral reefs in its waters.
12. Nairobi National Park
Nairobi National Park is located in Nairobi—Kenya's capital and was the first national park in the country. Despite its close proximity to the city, the park remains the most successful Rhinoceros sanctuary.
The park is home to a wide variety of wildlife population, including three "Big Cats" (Lions, Cheetahs, Leopard). Ostrich, Masai Giraffe, African Buffalo, Baboon, eastern Black Rhinoceros, Grant Zebra, Gazelle, Hippopotamus, Coke's Hartebeest, Eland, Impala, Waterbuck, and Vultures.
13. Kakamega Forest
Kakamega is Kenya's only tropical rainforest, situated in Kakamega County, western Kenya.
Very few activities are allowed in the forest; such as hiking, game watching, and village walks, birds and butterfly watching, primate watching, camping, and forest walking.
TIPS: Ever heard of Mama Mtere tree? It is a popular historic tree, located in Kakamega forest. The tree is claimed to have been photographed over a million times.
14. Lake Victoria
Lake Victoria is one of the greatest in Africa. Sitting at 59,947 square kilometers (i.e, 23,146 square miles), Lake Victoria is the largest in Africa by surface area.
There is a sizable population of native wildlife found here; such as waterbuck, African clawless otter, spotted-necked otter, marsh mongoose, giant otter shrew, bohor reedbuck, sitatunga. Among them are Nile crocodiles, African helmeted turtles, and species of mud turtles.
TIPS: Lake Victoria is the world's largest tropical lake, and the world's second-largest freshwater lake by surface area. There are much to do, and more to see when visiting the lake.
15. Aberdares National Park
Aberdares National Park is wildlife conservation located in central Kenya. There are over 250 species of birds hovering about the park.
The park harbors a huge population of Cape buffalo, suni, side-striped jackal, eland, duiker, olive baboon, lion, leopard, elephant, East African wild dog, giant forest hog, bushbuck, mountain reedbuck, waterbuck, black and white colobus monkey, and sykes monkey.
17. Diani Beach
Diani Beach is Africa's leading beach destinations. Its location has played quite a significant role in the success of Diani's Beach, in terms of visitors and popularity. The beach has seen a massive surge in tourist arrivals over the past years.
TIPS: Diani Beach is the best location for sky diving, kitesurfing, snorkeling, and jet skiing; and it is one of the best Kenya tourist destinations.
18. Lewa Wildlife Conservancy
Lewa Wildlife Conservancy is a wildlife sanctuary located in northern Kenya. It is home to Grevy's zebras, black Rhinos, and sitatungas. The big five—lion, leopards, rhinos, elephants and African buffalo—can also be found in the Conservancy.
Final Thoughts
If you are visiting Kenya tourist attractions for the first time, you'll be left wondering at some of the world's most awe-inspiring scenery. Kenya is such a beautiful country, in its own rights. Its has the greatest beach resort in Africa. No wonder millions of tourists fly to and fro the country every year.
Now, over to you. Where did you visit in Kenya?